Automated Windows and Continuous Improvements
Innovation and savings go hand in hand and are within reach
For us, innovation means being able to offer products ever closer to the growing needs of our customers, to help them in their everyday lives. Innovation is also knowing how to give services appreciated by customers but difficult to find on the market because they require highly specific skills.
In fact, Aluser is one of the few companies that carry out works of renovation of window frames without masonry work. A perfect solution for all those contexts where, for reasons of space or construction type, the walls cannot be damaged.
Home Automation and Smart Home
Cutting-edge products
Production Processes
Automated windows with SCHUCO TIP TRONIC technology, electronic control of all fixtures and accesses;
PANORAMIC windows and doors ESLIDE: electronic system for large sliding doors, with safety sensors totally concealed and without any physical effort for the end user;
DCS - – Door Control Systemcentralised control of all windows and doors using KNX technology, the main standard for energy-saving applications. Building Automation and Home Automation at European level. A solution that allows you to manage your home's windows and doors remotely, via smartphone, tablet or PC. All products bearing the KNX logo are certified to guarantee full compatibility, interconnection and interoperability of the devices themselves.
SCHUCO SIMPLY SMART technology: 180° opening doors and windows with concealed hinges and mechanisms;
Windows high sound insulation perfect for professional use or to improve the quality of life in the home;
Systems anti-effraction technology and safe;
We install windows and doors that allow a high level thermal insulationallowing considerable savings on energy costs.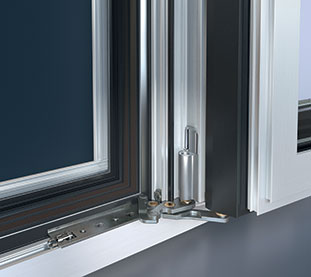 At Aluser we not only innovate our products, but we also focus on the innovation of our internal production and management processes. In order to do this, we are inspired by and apply in our daily work the philosophy of the CONTINUOUS IMPROVEMENT, known in Anglo-Saxon circles as "continuous improvement".
This school of thought, which originated in Japan under the name Kaizen and has become famous throughout the world, is based on continually reconsidering one's actions, asking oneself how they could be done better. We are always ready to question our actions, looking for new methods to come up with different solutions, so that we don't get stuck on the skills we have already acquired and focus instead on those that still need to be developed.
In this way, we use the long experience gained in our work not as a point of arrival, but as a starting point to be constantly rethought and improved, in order to successfully project ourselves into the future.
Discover the Products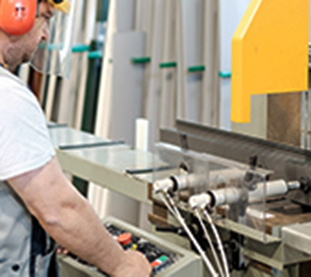 ---
Quality and Service

Sustainability

Design