PVC windows and doors
Choosing Aluser for the production of pvc windows and doors for your home is an excellent choice for those who are looking for a good value for money combined with excellent energy performance and a design in step with the times.
PVC, acronym for polyvinyl chloride, is a very ductile and versatile plastic material, it does not absorb water, is not subject to mold, is fireproof and insulator both in terms of thermal which acousticThese are fundamental characteristics when it comes to windows and doors. An element of weakness of PVC, according to many, is the poor mechanical resistance. This may be true in poor quality PVC systems, but Aluser only works with best systemsand select those that insert appropriate steel or polyamide reinforcements in the profiles of doors and windows, making them extremely versatile. safe e durable over time.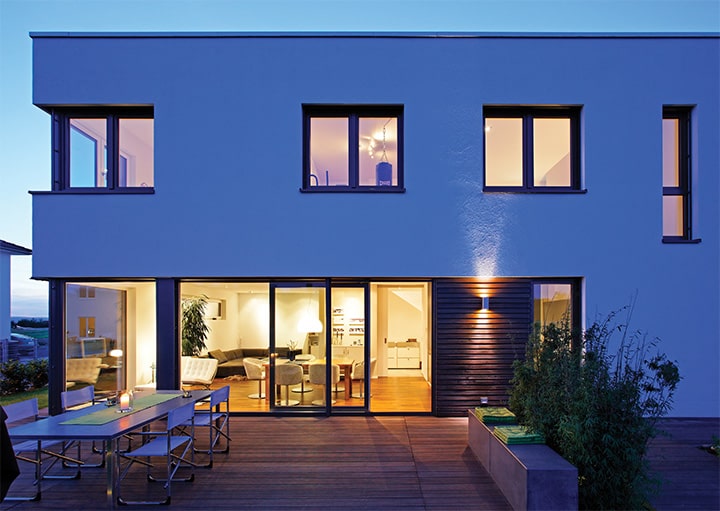 In a market saturated with diversified proposals, it is necessary to rely on expert and specialized consultants, who offer windows and doors guaranteed by controls and tests that certify their quality.high quality and compliance with state-of-the-art standards. An example is the Schüco Alu Inside which has reached the standard Passivhaus for sustainable architecture and allows decrease clearly the energy needs.
PVC windows and doors can be made in different versions dimensionsThey can be adapted to the architectural requirements and allow maximum design freedom. They can also be personalized through the choice of colours and finishes, and of all the accessory elements, such as the micro-aerationthe mechanism of flap or systems of security anti-effraction.
The experts at Aluser guide their customers in the choice of the best systems for new PVC windows and doors, as well as in the phases of installation e laying.
Features of PVC windows and doors
Energy Efficiency
Increase theefficiency energy of their own home is a need felt by more and more people not only to save on their heating bills, but also to contribute to reduce the emissions pollutants and help our planet. This is why it is a good investment to insulate your home with windows and doors in PVCwhich is by its nature a material highly heat insulatingfor real energy savings.
Window frames are insulating when it is bass the value by transmittance thermal transmittance (i.e. the average heat passing through two rooms at different temperatures). Aluser offers a production of PVC windows and doors with low thermal transmittance, such as the Schüco PVC systems, which are equipped with rooms by insulation which amplify the insulating power of PVC and guarantee protection against cold, humidity and atmospheric agents in winter and against heat in summer. The profiles are equipped with seals at EPDM pre-inserted: these elements ensure that the estate hermetic of jointsThis avoids draughts, infiltrations and heat dispersion. These windows and doors have the S class certification, related to the severe climate according to UNI EN 12608, and for this reason they can be used in any climate zone.
Security
Home is the place where you can feel calm and safe. This is why it is important to have windows and doors with high standard anti-effractionthat are resistant to intrusion attempts that, unfortunately, are increasingly frequent. PVC is a material that does not have a particular resistance mechanicsFor this reason, it is important to choose systems with certified burglar-resistant hardware: for example, the Schüco VarioTec integrates steel and polyamide elements into the profile of the frames, making the windows robust, safe e durable over time. In addition, Schüco has also developed two solutions for more demanding customers systems by alert for windows and balcony doors to make the house even safer: Schü-Control Handleto be applied to the handles, and Schü-Control Glassto be applied to the glass.
The Schü-Control Handle fits under the Schüco handle, even after the windows have been installed. In the event of the window being forced open, Schü-Control Handle is activated and emits a Sound by 100 dB, warning homeowners and deterring burglars. A similar device, but applicable to windows, is Schü-Control Glasswhen the glass is broken o damagedthe system emits a signal acoustic of 100 dB.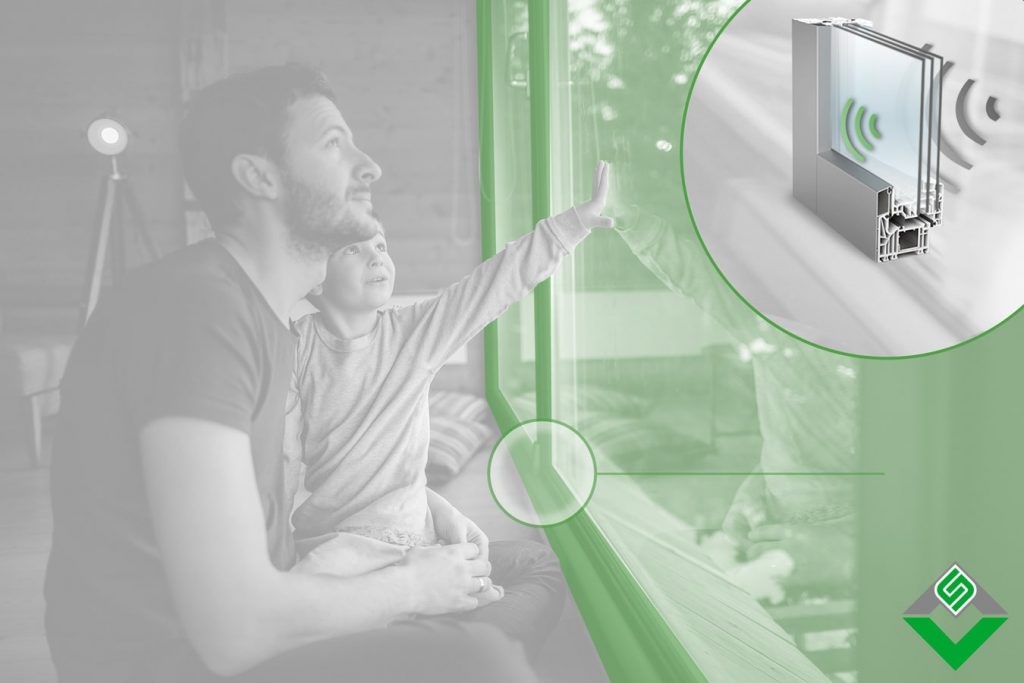 Acoustic Insulation
Windows and doors play an important role in insulating the house not only from a thermal point of view, but also acoustically, for real living comfort. Our cities, in fact, are increasingly busy and noisy, so it is difficult to rest and enjoy the silence. For this reason it is worth investing in high quality PVC windows that guarantee insulation acoustic. More and more families choose PVC windows precisely because it is a material which, by its very nature, is soundproofing. If you then choose glasses by thickness high l'effect soundproofing is enhanced to the maximum level (values up to Rwp 46-48 dB can be obtained).
Design and customization in the production of PVC windows and doors
Minimum Sections and Concealed Hinges
Aluser proposes profiles of PVC windows and doors with a section minimumin line with current architectural trends, which prefer slim and minimal windows.
If you want rooms flooded with light, Aluser recommends profiles such as Schüco LivIng Total Light, a product that is characterized by the section in view of just 109 mm.
Another way to have a clean and elegant window or door is to choose systems with hinges integrated in the profiles: Aluser recommends Schüco VarioTecwhich, in addition to being made of materials of excellent quality and strength (steel and polyamide), is also modular, thus adapting to the most diverse constructional forms.
Ventilation
The PVC is a material very insulatorThis prevents the natural ventilation of the rooms. For this reason it is necessary to always ventilate the rooms of the house, especially the kitchen and the bathroom, to avoid the appearance of condensation or mold. An intelligent solution in this sense can be the choice of a production of PVC windows and doors with a tilt and turn sash or window frames with details systems by ventilation. The PVC window system is an excellent example of intelligent ventilation. Schüco VarioTec Air. This system provides for a ventilation channel on the entire perimeter of the door which, by moving by just 6 mm, is able to guarantee a Continuous replacement d'air without compromising the energy performance of the frame, which also remains safe (protection level RC 2).
Colors and Wood Effect
During the production of PVC windows and doors, different customization choices can be made, depending on the customer's needs, in order to respond to styles furnishing classics o modern. It is possible to choose between different finishes and a wide range of colours. PVC, in fact, in its natural state is white or ivory, but it can also be colored via films decorative dye unit or to effect wood. Schüco is at the forefront in this area: the patented technology Schüco AutomotiveFinish proposes textures brilliants e metallictypical of the automotive industry, to give new windows and doors a unique and original style. Another innovative solution is Schüco Global Coverwhich provides for the painting on all and three i sides thaninfixnot only on exterior surfaces, for an elegant effect.
Le combinations This is endless and they really do fit into any living context.
Handles and Window Stops
Further customization is possible through the choice of the handleswith design e colors different colours, which can be matched to the frames for a neat and elegant environment. The handle of the same colour as the window frame "disappears", creating a minimal and refined effect, a different colour stands out, for a design with character. The brands selected by Aluser, Olivari e Hoppeoffer a wide range of variants: from the forms classics and timeless to solutions by design modern and captivating.
Aluser will also guide customers in the selection of the glazing beads that not only personalize the windows and doors, giving them a unique design, but are also essential for fixing and supporting the glass, for guarantee heat insulation e acoustic and for maintenance. The possibilities are many and, in addition to the depth of the glazing bead, the customer can choose square or more rounded geometries, depending on the desired style.
The systems used in our production of PVC windows and doors
The market of PVC windows and doors is quite crowded and it is difficult to choose between the various proposals. Aluser has selected the best systems on the market, in particular we have chosen Schüco Pws Italy and Spi Windows, a partnership synonymous with quality e professionalism.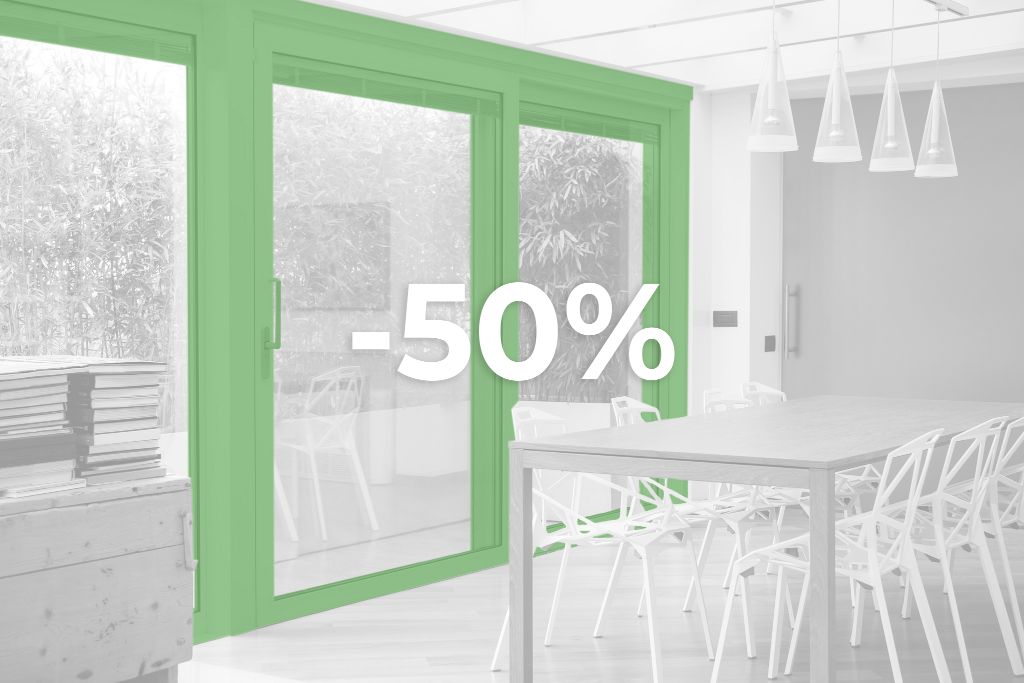 Tax Deductions
Also this is the moment best for change i window frames as the ecobonus has been extended, which provides for a deduction tax by 50% On the total expenses incurred to replace the windows and doors. The Home Bonus, which covers renovations, is also applicable to windows and doors and guarantees a 50% tax deduction. Learn more about tax deductions fixtures of 50%.
Aluser experience at your service
Every Aluser window and door is unique, designed at measure for the client, personalized in every detail, from finishes to accessories such as security systems. The masterful service of laying at opera will be able to guarantee the performance of the new windows and doors, for real energy saving.
Aluser not only takes care of the production e installationbut it is also available to the customer for the maintenance or other needs after sales.
Our achievements
Other products