Schuco windows and doors

A world leader in the design and manufacture of windows, doors and facades. It boasts a widespread presence in all continents and a wide network of qualified partners. It stands out for the continuous evolution of its products and for the considerable number of cutting-edge technological solutions offered every year.
Find out:
---
Secco windows and doors

Italian company leader in the production of profiles for steel windows and facades. Since 1945 Secco Sistemi has been supplying profiles in galvanized steel, stainless steel, corten steel and brass. It stands out for the minimal sections so appreciated by designers with a particular attention to design.
Find out:
---
Spi fixtures

Specializing in insulating frames for over 30 years, with production and design 100% Made in Italy. Specializing in aluminum frames, it is renowned for the extent of its range and the quality of craftsmanship of its products.
Find out:
---
Reynaers windows and doors
Reynaers Aluminium is one of Europe's leading specialists in the development of aluminium sliding door and window frames with cutting-edge technology and different levels of energy saving.
Find out:
---
Schuco PWS Italia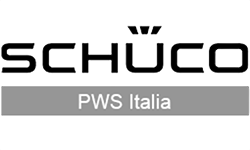 Schüco since 2011 has opened in Italy a division of the brand dedicated entirely to PVC windows and doors. Synonymous with guarantee and reliability, the company Schüco PWS Italia realizes PVC windows and doors applying the best technologies always one step ahead in innovation.
Find out:
---
AluK windows and doors

With more than 40 years of experience, is a specialist in the design and manufacture of aluminum windows. It has completed numerous prestigious projects throughout Europe and Asia and thanks to recent partnerships with major French and British groups continues to consolidate and expand its presence internationally.
---
Unicmi Members

Unione Nazionale delle Industrie delle Costruzioni Metalliche, dell'Involucro e dei serramenti (National Union of Metal Construction, Casing and Door and Window Frame Industries), through its 13 Divisions, represents about 22,000 Italian companies involved in the building envelope and metal construction market: metal door and window frames, curtain walls, solar shading, glazing, panels and corrugated sheets, civil and industrial buildings, etc.