Schüco glazing
Schüco glazing, like the Schüco panorama sliding systemare the ideal solution for those who want to fully enjoy the view outside: the lightness thanaluminiumIn fact, it allows you to create systems slides of remarkable dimensions. Sliding systems are true windows on the world, flooding interiors with light.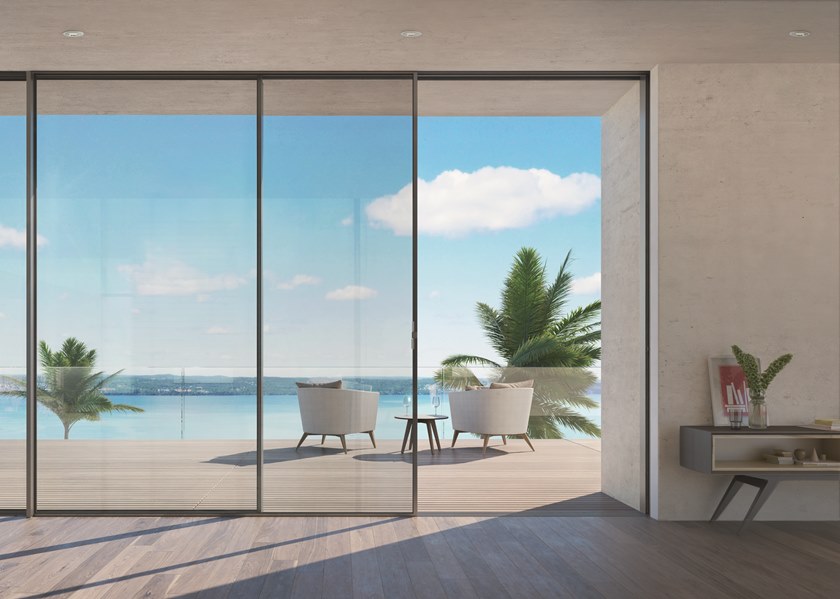 The design The unmistakable Schüco frame and doors can be completely concealed, which makes for an unmistakable effect clean and elegant.
The sliding systems are also extremely functional: opening and closing is quick and convenient at the touch of a button via the mechatronics handling or with comfortable handles by means of the easy manual handling system. I systems by security integrable make these frames an excellent choice to protect your family from possible intrusions.
This is the ideal solution for those who want to delete every barrier architectural because the threshold is at flush and therefore does not constitute a stumbling block, ideal for small children and prams.
Schüco: Panoramic Slides
ASE 60
The system sliding e sliding a lifting Schüco ASE 60 combines functionality a beautyin fact, it has excellent values of insulation thermalbut also profiles by thickness extremely lowwhich make it clean and elegant even when open.
La resistance burglary is guaranteed up to the level RC 2. The possibility of inserting systems Schüco SmartStop e Schüco SmartClose ensure the maximum ease Schüco glazing can be used both when opening and closing. The different types of opening can be adapted to meet every design requirement.
ASE 67 PD - PANORAMA DESIGN
If you want to enjoy the surrounding landscape to the full, the Schüco panorama sliding door system ASE 67 PD is for you. The perimeter frameIn fact, it can be hidden integrating it within the walls of the building. I profiles of sash are slender and to disappearanceto further guarantee transparency and luminosity, for a minimalist frame that creates a continuum between inside and outside. La ease by accesso is guaranteed by the threshold plain "0 Level".
This Schüco glazing system also supports ante very great (up to 3200×3000 mm) with a weight important (up to 400 kg).
Our Realizations
For further information
Ask for the advice of one of our technicians
Our Products