Schuco Aluminium Profiles
Schuco's thermal break aluminium profiles are high-performance: they provide acoustic and thermal insulation (resulting in energy savings), are durable, have a minimalist and elegant design, require no maintenance and can be fitted with burglar-resistant and integrated security systems.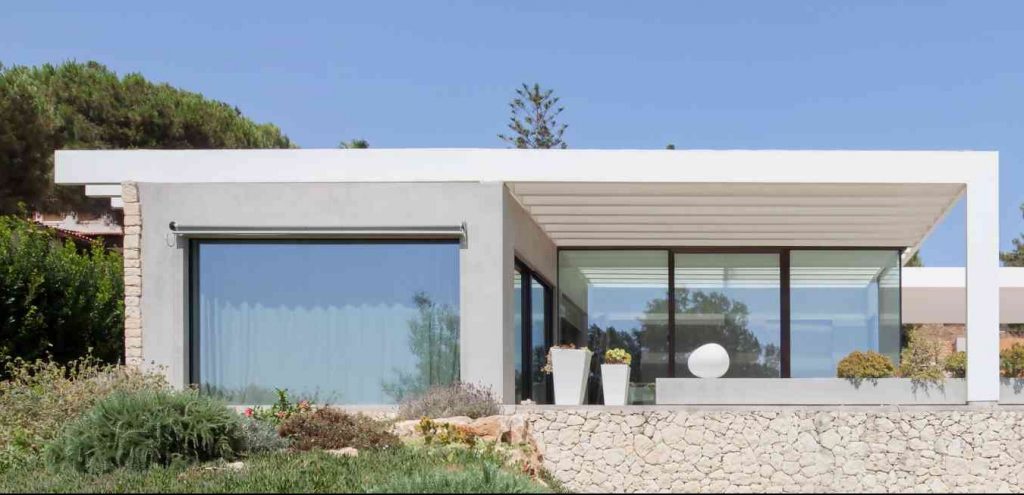 The most traditional and versatile Schuco profiles on the market
In order to allow the window to fit seamlessly into the existing architectural identity, Schüco Italia has developed highly customisable linear design solutions (without visible hinges), in which it is possible to differentiate the profiles on the inside and outside of the window in terms of both color and surface finish. This not only allows the aesthetics of the window to be brought into line with the context in which it is to be installed, but also makes it possible to express design creativity to the full, resulting in living and working environments that are efficient in terms of performance and able to interpret the existing architectural style.
AWS 65 HI+
With a construction depth of just 65 mm, the new Schüco AWS 65 HI+ (High Insulation) SimplySmart aluminium system represents the technological and design evolution of one of Schüco's most popular aluminium solutions on the Italian market. The new AWS 65 HI+ SimplySmart window is the result of Schüco Italia's technical and commercial know-how and meets the high standards of comfort and energy efficiency required for sustainable construction.
The AWS 65 HI+ SimplySmart window is characterized by a slim and clean design, thanks to the very thin profiles and the concealed integration of all components. It combines excellent thermal performance, with Uf values up to 1.74 W/m2K, with high performance in terms of air and water tightness. The innovative Schüco SimplySmart continuous central seal with its self-positioning system and the new glass seat insulation system make this perfect solution also for energy-efficient building renovations and upgrades, which are very much in demand in the Italian market.
AWS 75.SI+
With a construction depth of 75 mm, the optimized standard window system Schüco AWS 75.SI+ (Super Insulation) performs better in terms of thermal and acoustic insulation than the AWS 65 HI+ system and forms the basis for a range of applications in low-energy building envelopes.
Future-oriented, the system is based on the Cradle-to-Cradle (C2C) principle, making it perfect for sustainable building design with building elements tested and evaluated for harmful substances and recycling characteristics. Raw materials are processed into products that, at the end of their life cycle, can be re-processed into raw materials with their original quality.
AWS 90.SI+ Green
In addition, the new generation of Schüco AWS 90.SI+ Green windows from Schüco meets the most stringent guidelines and achieves ahigh potential for CO₂ savings in the building sector. For this purpose, innovative, environmentally friendly materials such as vegetable oil are used for the production of polyamide insulation boards.
This has enabled Schüco to be the first manufacturer to be able to supply a range of sustainable aluminum window frames from catalog and with a substantial percentage of materials from renewable sources, which in plastics partially replace raw material from fossil sources.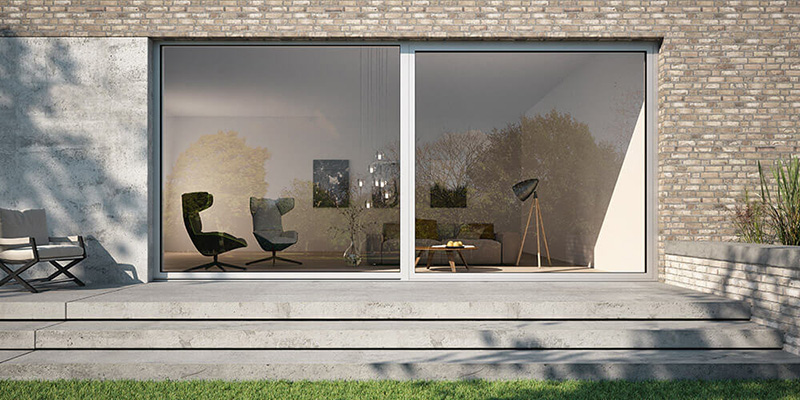 Block System: the minimalist Schuco aluminium profile system
The Aluminium Block System is part of the modular Schuco Aluminium AWS system with optimized features in terms of functionality, energy efficiency and design.
The high flexibility of the system enables sophisticated design solutions that meet a wide range of architectural requirements for the building envelope, such as single windows, strip windows as well as "floating windows". Another advantage of the Block series is the wide range of profiles, including corner posts, structural posts and insertion frames as well as TipTronic sash profiles. They enable the use of innovative systems such as the Schüco TipTronic SimplySmart generation, a fully integrated drive for numerous opening types.
AWS 65 BS.HI+ e AWS 75 BS.HI+
In this way, the Block window system sets standards in terms of design flexibility for the construction of elegant and energy-efficient building envelopes. The system is available in two different depths, 65 mm (AWS 65 BS.HI+) and 75 mm (AWS 75 BS.HI+) to achieve different thermal insulation values, thus offering the opportunity to design and use the right product for every climate condition.
This system is ideal for renovation projects as it guarantees maximum transparency, with a high glass surface area that facilitates the entry of natural light into the rooms. It also allows the construction of single and double-leaf French windows with a low threshold, which, with a floor height of just 25 mm, guarantees easy access to the outside. All this while maintaining the high air, water and wind tightness of Schüco systems.
AWS 90 BS.SI+
And for an even higher standard: The new "Block" aluminum window system Schüco AWS 90 BS.SI+ impresses with its forward-looking thermal insulation and meets the most stringent requirements in terms of design and design possibilities with a construction thickness of just 90 mm. With a Uf-value of 1.2 W/(m2K) and a visible cross-section of 95 mm, it even achieves passive house status. The reduced cross-sections enable a harmonious design without visible window sashes.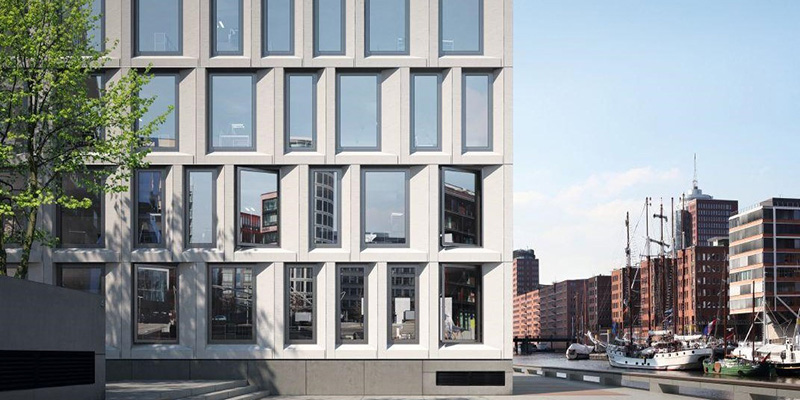 Schuco Aluminium Profiles for Armoured Windows
In the case of large commercial projects, such as banks, government buildings or embassies, it happens that the windows must meet a number of very strict safety requirements.
AWS 90 BR
The Schüco AWS 90 BR (Bullet Resistant) window system offers Break-in and Bullet Resistant solutions tailor-made for use in a variety of building contexts: it can be designed as a tilt-and-turn system, a casement system or as a fixed mirror system.
In terms of design, the system offers major advantages: burglar-resistant and bulletproof technical features can be combined perfectly. With uniform visible widths, the aluminum frames are visually indistinguishable from Schüco's standard window systems and thus harmoniously integrate into the overall aesthetics of the building, in line with Schüco's principle that "more protection need not be visible".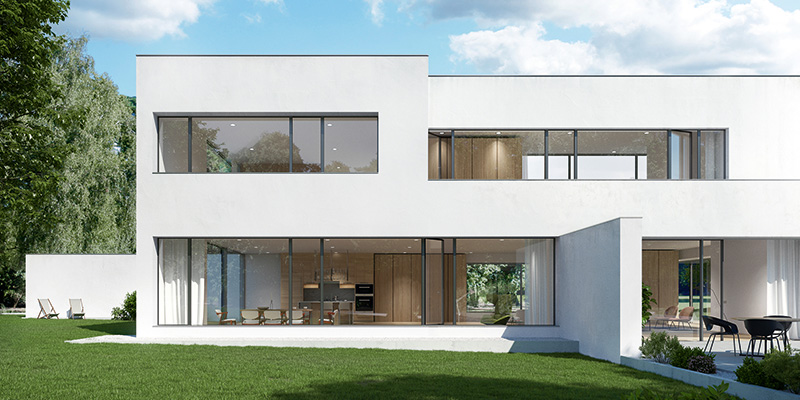 Schuco Aluminium Profiles for Panoramic Windows
In addition to energy efficiency, the perfect integration of form and function is now a key requirement in the creation of modern building envelopes. Schuco's Panorama Design range of aluminium profiles makes it possible to create fully transparent glazed openings, maximizing the amount of natural lightfor rooms that pay attention to the comfort of the people who live there.
AWS 75 PD.SI
The Schüco AWS 75 PD.SI Panorama Design window floods the home with light, offering an opening unit with minimal internal and external visible sections and excellent thermal insulation that perfectly meets all the architectural requirements of contemporary living.
Thanks to itssmall profiles and large glass surfaces, the Schüco AWS 75 PD.SI system provides you with uncompromising daylight. The system's high thermal performance - with Uf values of up to 1.7 W/m2K - goes hand in hand with excellent performance in terms of air, water and wind load resistance, making it ideal for use in any climate zone. This enables you to reduce energy wastage in your home and improve the personal well-being of you and your family.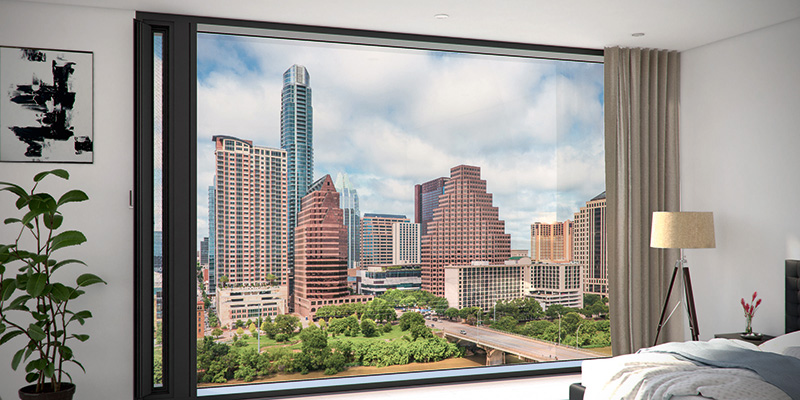 Latest news: the Schuco profile to reduce the noise of the city
Noise pollution, caused by excessive exposure to loud sounds and noises - in the case of constant exposure - can lead to physical and psychological health problems. The hectic pace of life makes soundproofing an increasingly important element of living comfort.
That's why Schüco offers aluminum window frames designed to protect buildings from outside noise and achieve high levels of noise reduction.
AWS 90 AC.SI
Urban noise is not only annoying, it also affects the quality of life and constant noise exposure can lead to the onset of diseases. On environmental noise, WHO (World Health Organization) guidelines state that it is one of the most important environmental risks to the physical and mental health of the population.
The solution: An acoustic window that can be opened for ventilation while keeping out traffic noise. AWS 90 AC.SI is a window system that is particularly indicated for buildings in noisy environments. Particularly sensitive rooms, such as bedrooms and children's rooms facing the street, can be naturally ventilated with this window system without being disturbed by traffic noise.With sashes in tilt positions (wasistas), air is conducted through the ventilation elements of the upper outer frame, dramatically reducing noise.
AWS 120 CC.SI
Thanks to the large number of functions that can be integrated in terms of comfort and climate control, the Schuco AWS 120 CC.SI noise protection window is a complete package that is perfect for window renovations. In addition to high thermal insulation values and excellent noise reduction, this system also features an integrated weatherproof sun protection in the cavity between the sashes.
The Performance of Schüco Windows
Schüco is always on the lookout for innovative solutions to enhance the quality of its products and meet the needs of its most discerning customers. The field of research is wide-ranging: innovative materials, automation and ventilation systems, anti-burglary systems and much more. Discover thermal and acoustic insulation performance, security and equipment from Schüco Serramenti.
For further information
Ask for the advice of one of our technicians