Schuco AWS 90 BR: the bulletproof system for maximum protection
Often when it comes to big projects, particularly in some areas of commercial construction, from banks and insurance companies, post offices, government agencies and retail businesses, they are required to meet a very strict set of safety requirements.
Anche in questo settore, Schüco è in grado di offrire sistemi adeguati, basati su componenti perfettamente compatibili tra loro. With the Schuco AWS 90 BR, Schuco offers a solution with bulletproof protection of strength class FB 4.
Safety and design freedom: Schuco AWS 90 BR
The Schuco AWS 90 BR (Bullet Resistant) window system offers burglary-resistant and bullet-proof solutions tailored for use in a variety of building contexts: it can be implemented as a tilt-and-turn system, a casement system or as a fixed mirror system.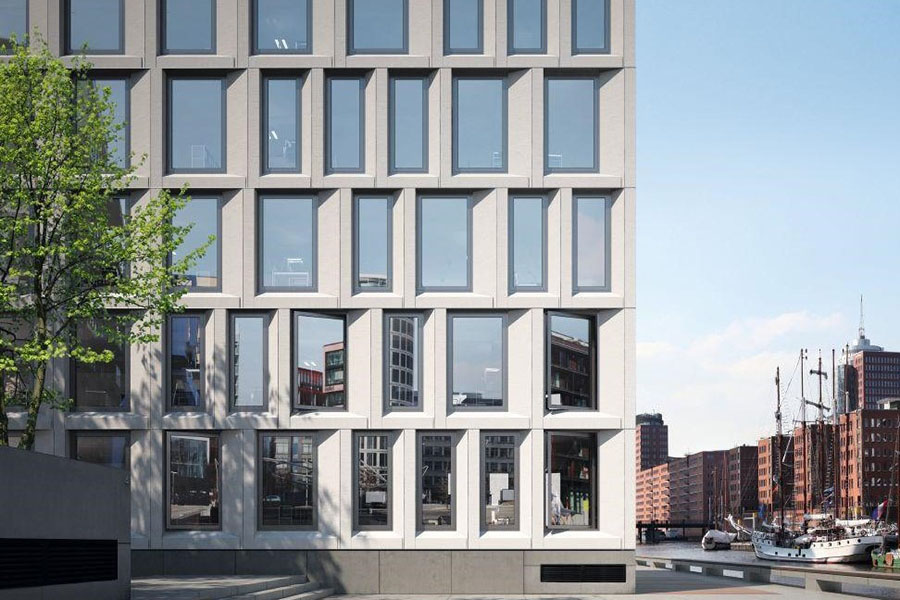 In terms of design, with uniform sight widths, the AWS 90 BR bulletproof system looks the same as Schüco's standard window systems and, therefore, harmoniously integrates into the overall aesthetics of the building, in line with Schüco's principle that "more protection does not have to be visible".
Technical features of the Schuco bulletproof system AWS 90 BR
The European standard DIN EN 1522 describes the requirements of test procedures for bullet resistant units. Bulletproof security systems must be designed in such a way that not only the frame profiles, bulletproof glass and security devices comply with the relevant standards, but also the design and quantity of the fixings, the installation and the wall attachments themselves must be designed to be bulletproof. It is also, very important that the wall attachment be at least of the same strength class as the window, door and attachment itself.
The standard profile reinforced up to 90 mm with the corresponding fittings is burglary-resistant up to class WK4 (RC4). In order to achieve bulletproof class FB4, a chamber is added in the outer area with an aluminium reinforcement profile that prevents bullet penetration. 
Discover with Aluser Design the best solution for your windows and doors
Discover the Schuco systems that are best suited to your needs: as an alternative to Schuco window profiles, for those who want to enjoy the surrounding landscape and want maximum light in the house, Schuco sliding glass doors are the ideal solution.
Aluser Design recommends to its customers, among the different solutions of sliding systems, the range Schuco ASE 60 and 80 when it comes to not too invasive renovations. Another good alternative is the sliding system Schuco ASE 51 PD, a high-performance product that combines ease of use and aesthetic qualities, also suitable for renovations not too invasive.
Aluser's experience at your service
Each Aluser window is unique, designed to customer's specifications, customised in every detail, from the finish to accessories such as security systems. The masterful positioning service at work will guarantee the performance of the new windows and doors, for real energy savings.
Aluser not only takes care ofproduction and installation, but is also available to customers for maintenance or other post-sale requirements.